The truth about Miami
This is for my blog readers that do not live in Miami. You might think that this rat hole is a nice place to live. You might think that it is "paradise". You might even think that you want to take a vacation here.
But you are WRONG! Miami FloriDUH is a festering hell hole, a cesspool of humanity. The Devil, one of my readers now, would love it here. So many souls free for the taking.
One problem is that nobody gives a crap about anybody else. Drivers are in their own little world, totally oblivious to anyone else on the road. Too many people think that traffic rules, like for example RED LIGHT MEANS STOP, do not apply to them. When lights cycle, at least three cars coast through the intersection. Sometimes more.
It is dangerous to be a pedestrian in Miami. People in cars WILL run your ass over. When Miami drivers see someone trying to walk across the street, do they slow down? NO. They either speed up or continue at the same speed like they do not see anything. People on foot know to run or die. Somehow, very few people get turned into road pizza. Probably because nobody walks anywhere.

Drivers also love to use the horn. They will sit there at a red light (when they actually decide to stop) with their hand on the horn. The millisecond that light is green, if you are not flooring it they honk. People also use the car horn as a doorbell. They will pull up in front of a house, and use the horn as opposed to getting out of the car and using the doorbell.

And there is also a trend to race from light to light. People here are either flooring the gas pedal or the brake pedal. Green light = STOMP ON IT!. Red light = slam on the brakes, and skid to a stop. Yellow lights mean "now is a good time to pick up the cell phone and start to dial someone up". It is like you can get a drivers license from a box of Cracker Jacks.

People will also think nothing of trashing the place up. The only reason the city is not drowning in a sea of litter is that the frequent rain carries it all into the storm sewers. I have seen, with my own eyes, people using the beach like a giant personal ash tray (putting the cigarette out in the beach sand, then leaving the butt sticking up and walking off). What disgusting, inconsiderate, filthy PIGS! What is even worse (but less common) is people leaving poopy baby diapers on the beach, buried under a few inches of sand. FIND A GARBAGE CAN! Or better yet, pick up a plastic bag someone else tossed on the ground and put the diaper in that - tie a knot - then throw it in the trash. Or even better, DO NOT HAVE KIDS! The last thing this planet needs are disgusting pigs breeding, and creating another generation who think that the beach is their personal landfill. If you can not be responsible for your trash, how can you be responsible for molding the young mind of another human being? If you feel that you just can not be bothered to use the trash can, do the world a favor and DROWN YOURSELF! It is easy to do that at the beach. I promise to not try to rescue you. At least then your dead body can be useful for something, like crab food.
There is also a large number of people here who care more about one Caribbean Island than they do about the USA. At least it seems that way some of the time.
It is common for neighbors to never speak to each other. In fact, most people HATE their neighbors. Why? Because if you live here chances are your neighbor is an asshole. They will have little or no regard for you. They will bitch about everything you do, but when they want to have a party they will direct guests to park in your yard, and play loud music all night. And don't you dare complain! Oh no! THEY can do whatever they want, but you can not.
But really, this is not a huge shock. The island a lot of people here are obsessed with was run the exact way. There were the privileged, and the peons. The peons revolted. So the privileged came here and installed a similar system.
But as much as this place blows, I am stuck here. Like a rat on a boat at sea. I am too poor to just pack up and split. I do not have enough buffer money to rent a place to live while I look for work.
What Miami needs is a PEOPLE TRANSPLANT. It would be so nice to kick out about 90% of the population, and replace them with REAL PEOPLE. And I do not mean "people that speak English" or anything, I mean real people. People that are considerate. People that know the rules apply to them as well as to other people. People that do not act like their shit does not stink. You know, real people. Ordinary, polite, respectful people. I could care less what their national origin was. In fact, I would prefer a diverse population. Sameness is boring. As long as that diverse population was not rude and obnoxious.
But this is like expecting a tropical rain forest in Antarctica.It just isn't going to happen. Too bad, because Miami could be paradise.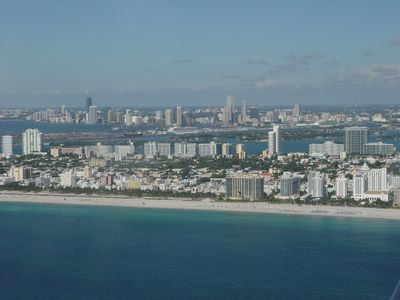 South Beach in the foreground, port Of Miami in the middle, and Downtown Miami in the background. I took this photo from a Cessna 172 flown by a friend of mine. It was a rental plane.
Click HERE for a full size photo
.