Taxes, Sailboats, And Construction. Not Necessarily In That Order
Still no photos. I am lazy you see. I have a fair number of sailing trip photos, but I have to resize them and shit before I can post them here.
WAY too much work. Now Blogger has a nifty tool where I can easily add photos, and it will even resize the photos, but I do not know if the resize tool requires the whole original image to be downloaded or not. If so, then it is not that great. The original images are large.
My older digital camera had a cool feature where it would take two pictures. One at whatever resolution I would set the camera to - and another identical image sized for the web. That was awesome.
The new camera which is waterproof and all does not do this. OH WELL!!
Sooner or later I will get around to messing with the images so I can post them to the web. Or maybe I will resort to photobucket?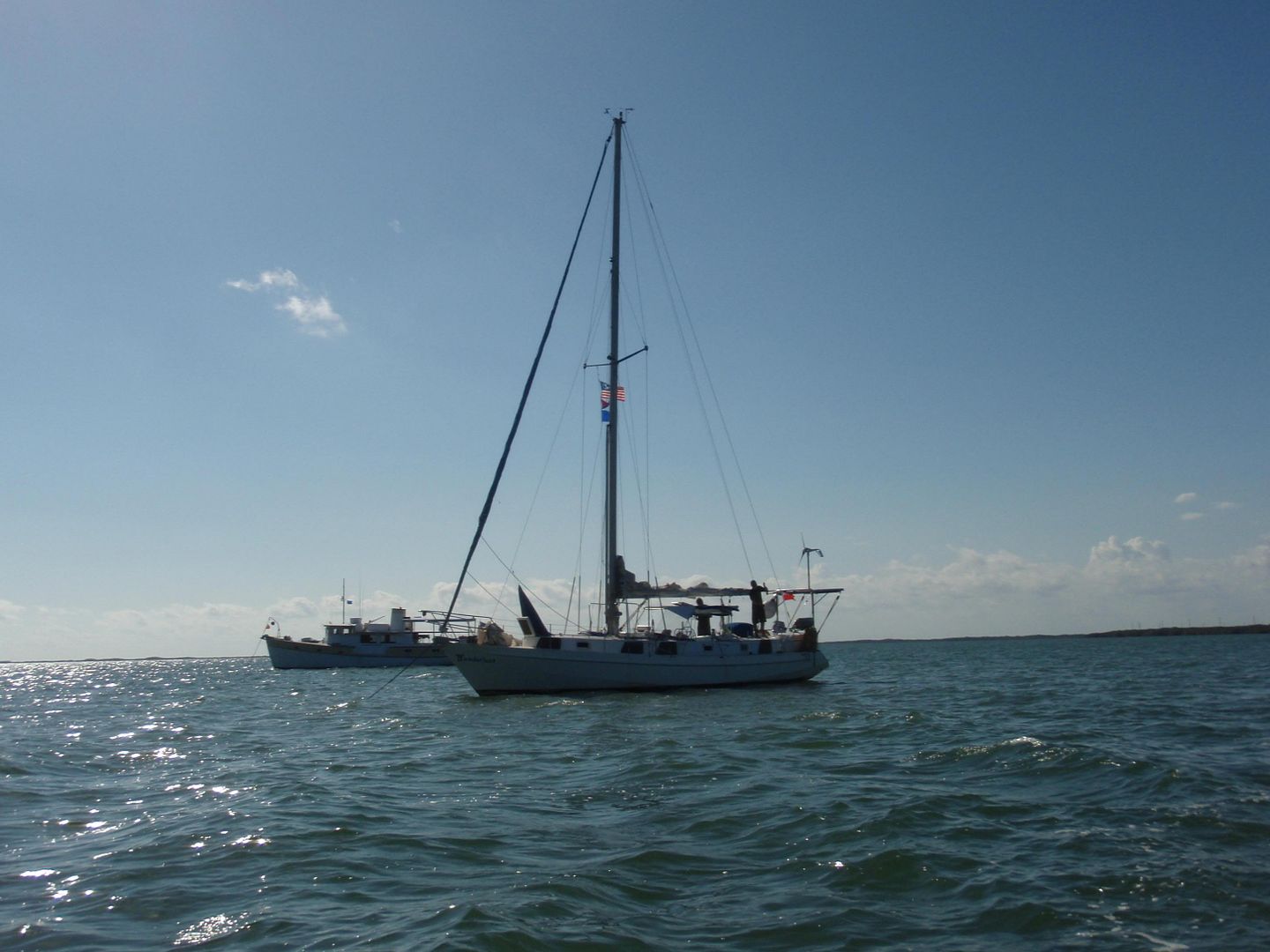 That seemed to work. This is the boat I was on. So let me know how long it takes to download this image and I may add more! If it takes too long then Ill have to resize the images.
The picture sucks. The light is all wrong. I took this photo in the afternoon after the race. I was in the ships dingy leaving to go to shore where there was a swimming pool FULL of fresh water. Was that ever nice.
In other news, I got my taxes filed. Sort of. I requested an extension. I seem to have spaced a W2 somewhere. I should have two, I can only find one. Now I could say "screw it" but with my luck the IRS would know about it and then put my ass in jail or something. So I filed for an extension. Now I have more time to find the missing W2, and misplace the other W2. Then I can file for another extension.
Anyone ever ask for a second W2? How does that work? Will it be a pain in my ass?
And now for the construction part of this post. I made two flag staffs for the boat. Now I can fly flags.
I made the staffs to fit in the T-Top rod holders. Out of sticks. Well not really sticks so much as wooden poles meant to hang curtains or whatever from. I cut them to be 2 feet 2 inches each. Then I drilled 1/4 inch holes in each pole at pre-measured locations. Then I put some stainless steel eye bolts through the holes and bolted them in place. Now I can use nylon straps to attach the flags to the bolts. Pretty simple really. Really short project here. All I have to do to finish them is cut a notch in the bottom of each staff so they do not spin around in the holders. There is a bar in the rod holders for this purpose. Then maybe some paint? Or wood stain and varnish? Or nothing. Screw it. It really does not matter.
I also have to redesign the litter sticks. The glue I used sort of sucks. It is good glue, but not really the right stuff for the application. I may try again with this stuff I have called "5200". It forms a plastic like permanent waterproof bond. It is made for below the waterline fittings. It is strong, so maybe it is the right stuff to use?
Or maybe thing of a redesign. I can remove the glued in nails, then drill a pilot hole into the other end of the staffs. Then drive a nail in an inch or so using a hammer. Then using a grinder reshape the nail head so it is pointy.