GOOGLE! SAVE ME!!!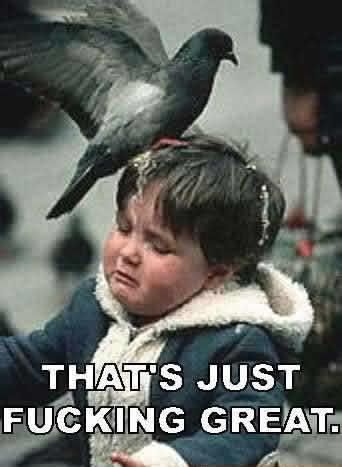 Yes it is! Not just great. Its fucking great!
That is the best kind of great by the way.
So whats with the picture? GLAD YOU ASKED! See I had nothing. So I did what any awesome blogger would do when faced with such a problem.
I searched Google Images for "funny shit". And that is what I found as the number 1 result. So I stole it and posted it here.
And just like that, I went from having nothing to having a picture of a bird taking a shit on some kid while the parents (probably drunk) decided that the thing to do was TAKE A PICTURE! Sure! Don't do anything about it! OH NO! Take a picture!!
And then in 50 years those same parents wonder why their kids just put them in the nursing home. Gee I wonder why that happened. Not only did you NOT rescue me from the pigeon but you POSTED THE PHOTO ON THE INTERNET!!! Do you realize the trouble that caused me when I ran for the Senate?
We can only hope that picture is a photoshop job.
By the way - internet safety tip!!! Whenever searching Google images using the key word "shit" MAKE SURE SAFE SEARCH IS ON!!! Even if you are searching "funny shit". Safe search should be on. Got it? Good.
Because you do not want to see what came up as result 9. But Ill give you a hint. Take out the key word "funny". What key word is left???
But bad parenting is not just something that happens in the park where you let a nasty pigeon shit all over your kid. OH NO! It knows no bounds.
Now what the hell is wrong here? Lets see. You have a baby and a COBRA! A fucking COBRA! A real live pissed off COBRA.
What can possibly go wrong? NOTHING! This is going to be funny!
I like the part about 35 seconds into the video where the snake looks right at the idiot holding the camera as if to say "DUDE! What the fuck is the matter with you? Aren't you going to do something about this OTHER THAN FILM IT??? Were you born retarded because your mother drank a pint of tequila every day when she was pregnant or did you get dropped you on your head at some point?"
Seriously the baby was not really in any danger. Snake charmers defang the cobras. So the snake has no way if injecting poison into anything. But still. Snakes do have smaller teeth and if you get bit by one you COULD get an infection. So still not a good idea.
Wow. It seems I did have something after all. And here I thought I had nothing.
Labels: Got nothing