Saturday Post Madness
FOOD SHOPPING TIP! Everyone knows to come here for excellent beer buying tips. But how about food? Well guess what - I have some EXCELLENT food shopping tips.
But "happy cow" shit. Yes I said "happy cow" shit. You know, stuff from that "organic" dairy. What the hell is the name of it? I forgot. Organic Valley? I think that is it. Buy it. If you are buying dairy products and you can get that product from Organic Valley buy it.
But Lazy, it costs more!
Yes and no. Sure the price at the register is higher - but I am telling you, this is some good shit. First off, it never goes bad. I do not know what they do it it - but the milk will never spoil. I had some stuff that was a month past the expiration date and it was still good. Seriously. So it does not cost more because you will NEVER throw anything away because it is spoiled.
The first time I bought some I got the whole milk. The stuff tasted like half-and-half. So now if I want "whole milk" I buy the 1% milk. It tastes like whole milk. The Organic Valley half and half is like heavy cream. Really good stuff. Trust me here. Your "skim milk" will actually not taste like watered down shit anymore - and it is still drinkable weeks after it "expires".
I am a bad cat owner. Another week went by, and did I do beans about the fact Skipper has to be "fixed"? Nope. I was all like "screw it, Ill do it tomorrow". I even made a poster about it.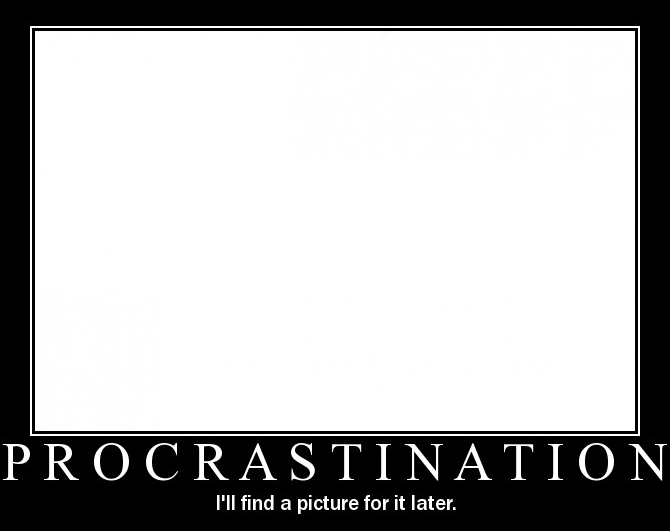 I have been working on this poster for months. Really. Months. Ill find a picture for it later.
This reminds me of an ex-girlfriend for some reason. She was loud, and bulimic. I had to keep saying to her "honey, keep it down".
I should end things with that joke, but I am not. I do not believe in the "quit when you are ahead" theory. Oh no. Better to wear out your welcome so you are never asked to return again. But really that is a great joke. It works on two levels.
And in other news, I managed to get all addicted to a TV show. Heroes. Now I have done a great job of not getting addicted to any TV show. Well except for animated network TV shows (King of The Kill, The Simpsons, American Dad, Family Guy). And Robot Chicken. That is a great show.
And since when did all TV shows become a serial mini-series? Seriously. What happened to shows like House, where if you miss a week or two it does not matter? The show begins with a problem, everyone figures out the problem, and then the show end. There. A whole story boiled down to an hour.
This is NOT how Heroes works. Each story lasts a whole season. You can not just start watching a season on episode 3 or 4 - or else you will not know what the hell is going on.
So I spent a bunch of time on Netflix watching the entire first season, and the first 2 episodes of the second season. But now I am out of "watch it now online" time and so I have to wait for the next billing cycle so I can watch episode 3 - whatever the most recent episode is. I tried to watch them online at other websites, but the video either loads too slow OR there are Korean or Japanese or some strange subtitles. Now this is not a big deal, except some characters speak Japanese, Spanish and French. So sometimes I need to see the English subtitles. The Korean subtitles are plastered over the English ones. So that is not any good.
Why must life be so complicated? I just want to watch a stupid TV show on the computer because I missed it when it was on TV. But does NBC keep more than the last 4 shows on their website? NOOOOOO. What a bunch of tards.
I get to go on a tour of the Hurricane Center today. This is always fun. There are no hurricanes going on right now so the place will not be that active. I swear that there is a back room in that place where employees can go to smoke pot. Talk about job perks. Who needs insurance if you have an employee pot smoking lounge. With a big ole bowl of Doritos and a HDTV and a PS3. This is why you only see two or three people "working". The rest are in the back room playing Guitar Hero.
I purchased 18 beers for Thanksgiving. 6 Sierra Nevada Pale Ales, 6 Sam Adams Winter Lagers, and 6 Sam Adams Black Lagers. I am down to 1 Winter Ale, 2 Sierra Nevadas, and 3 Black Lagers. I had some help. It will be time to resupply soon. Probably sometime next week.
Labels: beer, food shopping tip, motivational posters, skipper the cat